We design and manufacture the following types of moulds:
– moulds for aesthetic parts (chrome-plated, painted, transparent, high-gloss polished)
– mouls dor technical parts in the most varied sectors)
– multi-injection rotary, blade or transfer mould (co-injection of different materials), 2 and 3K (plastic-plastic, plastic-rubber, plastic-metal)
– moulds with air-moulding technology (for aesthetic, structural and weight reasons)
– moulds with IMD and IML (over-injection on silk-screen printed and thermoformed films)
– multi-cavity moulds (up to 64 cavities)
– prototype aluminium moulds with automatic and semi-automatic functioning
– low cost moulds (standard moulds for small runs and very narrow specifications)
– moulds for thermosetting
– moulds for rubber parts (vulcanized included)
Our moulds are supplied tested and ready-to-use, together with try-outs, injection reports and steel certificates. Upon request we offer short runs, too.
We carry out repair, maintenance and adjusting service both on moulds produced by us and on third parties ones, together with machining of any type.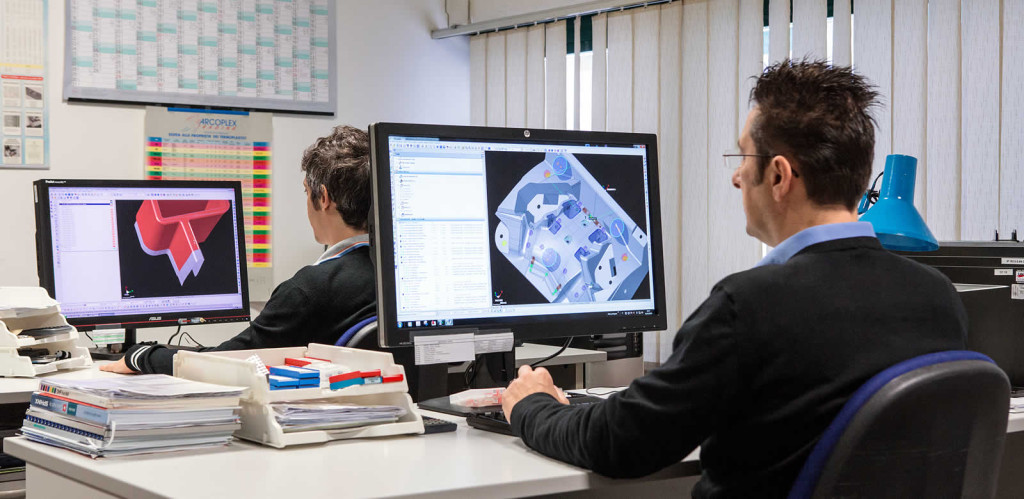 Our internal design team
Good design is the prelude to the correct mould construction.

The detailed analysis of the to-be-produced part, its peculiarities, analysis of any problem that could arise during its realization and our know-how on the final part too enable us to design a mould
perfect for every production.
Our design and programming offices implement the following software:

– workstations CATIA V5
– workstations WORKNC
– workstations with various company management and design softwares
.
Some examples of moulds produced by us: